Lovely Charm Bracelets
~ tell your story with charms
I am truly enchanted by charm bracelets! In the early 1990s, I found a sterling silver charm bracelet in the busy market place in Northern Thailand.
On the bracelet are six silver flower charms and in-between these are six silver leaf charms.
When I set eyes on this charming silver bracelet, I knew that I must have it.
Finally after much bargaining, I happily left the market place with the beautiful bracelet dangling on my wrist.
The charms dangling from that bracelet jingled and jangled on my wrist throughout my whole holiday.
Now when I look at this charm bracelet, it brings back much wonderful memories of my short stay there; the places I had been, the food I ate and the many friends I made; these are all vividly brought back to mind as I look at the charms on the silver charm bracelet.
Scroll to the end for examples and instructions for making some interesting bracelets.
Intrigued? Here's the 925 silver bracelet. Have a look.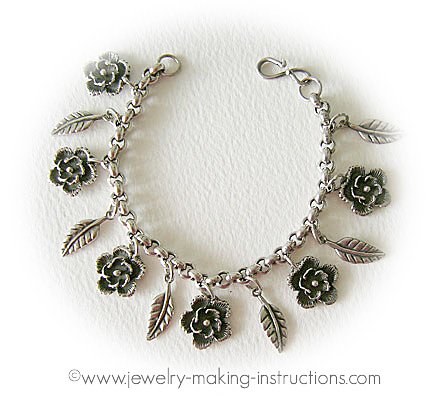 All charm bracelets are make up of 3 parts:
charms (1 or more)
chain
clasp
These bracelets are quite easy to make.
But first you need to find the charms.
What materials are you using to create your bracelet?
Silver or gold? Or base metal? (Here are some base metal charms)
Decide on this and then proceed to look for charms of that material.
Since you are making the bracelet yourself, you might like to choose each charm with care. Let each charm you put on the bracelet be special to you - something that reminds you of a place, tells of who you are or dream to be; e.g. a ballerina, a trinket from your wedding or a sea shell picked while on your honeymoon.
Some Charming Themes
birth - birthstones/wishes
bridal
animals - horses, dogs, cats
travel
fashion
stars - Hollywood, Bolliwood, etc
cartoon characters
career
hobby
sports
family
Lets start with a few important questions.
Who are you making the this piece of jewelry for? For yourself or is it for a friend or client?
How old is this person?
And what is her likes and dislikes?
What's her interests?
Does she has any children or grandchildren?
These are some questions you might like to have answers for.
Armed with answers to these questions, you should be able to look for charms that will have meaning to the wearer.
Chain
The chain is the main part of the bracelet. It is where all your charms will dangled from.
So choose a good quality chain - strong enough for all your charms.
It can be just a simple chain or a one that has a complex design.
Clasp
Look for a good clasp. A appropriate clasp that's strong and will lock properly.
Other Necessary Supplies :
jump rings - you will need jump rings to attach the charms to your chain.
safety chain - this is just in case your clasp pops open accidentally.
solder - solder every joints if the bracelet is an expensive one.


Arranging the Charms
Decide how you want to arrange the charms. Small charms closest to the clasp on both end and to the biggest charm right in the center of the chain.
Or alternate the charms; small - big - small - big and so on.
Also consider whether you are placing a charm on each link or alternate link of the chain. You can also have two or three small charms on a link.
If you have an expensive charm - for example; one made of precious gemstones - you might just want to have just a few charms on the chain spread far apart so that they don't rub against each other.
Or you might even like to consider just having one charm dangling from the bracelet.
So let's make some Charm bracelets :
1. An inexpensive child charm bracelet - Simple bracelet that does not need soldering. This is a nice piece of jewelry to make for a teenage girl.
---
Home

›
Charm Bracelets
Jewelry Inspirations
Sign up now! I'll send Jewelry Inspirations straight to your inbox. It's FREE!
May 29, 18 10:43 AM

Privacy Policy of Jewelry Making Instructions. Please read before browsing this jewellery making website.

May 30, 15 03:46 AM

Wear rings that are uniquely you. Instructions provided here for making ring jewelry.

May 30, 15 02:07 AM

Make this pair of sweet pink Swarovski crystal earrings in 30 minutes and wear it for a date or just shopping in the mall.
If any piece of DIY jewelry here on this website has inspired you to make something beautiful for yourself or a friend, please share it with someone today.
Use the social buttons below to share with your friends or fans.