Anklets Are Hot!
They are fun projects to make and wear
Anklets are very popular amongst Indian ladies. They worn these on their ankles as ornaments.
Today, modern women adorn their ankles with trendy jewelries and wear them with evening gowns, day dresses, shorts or jeans.
---
---
Indian dancers wear those that have bells and or with hollow beads and charms added so that when they dance, these adornments emphasize their movements with rhythmic jangles.
Take a walk down little India and you will see some of the ladies wearing these foot jewelry. They look especially beautiful on dainty feet with painted nails.
Simple And Inexpensive Anklets To Make
Here are a few designs that I have made listed here. Just click on the links below and you will be brought to a page of instructions to create them.
Tips: Make sure that the clasp is secure so that your piece of precious jewelry doesn't fall off easily and got lost.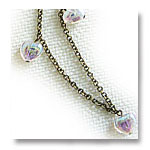 Romantic anklet of pearlescent hearts.
Included is another design using lilac colour leaf charms if you don't want heart shaped pearlescent bead drops.

Make this!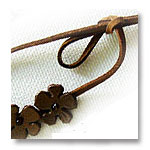 Thong made from leather and die-cut flowers. This is a very simple design - a simple and casual adornment for your ankle using leather thong and three leather die-cut flowers.
Make this!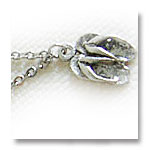 A chain and a sandal charm make up this piece of costume jewelry to adorn your ankle for a walk along the beach.
Cute silver sandals on a light silver chain.

Make this!
I will be adding more projects to this section so do come back and visit again.
Types: Flexible and Non-Flexible
There are two kinds; flexible and non-flexible. Flexible are those made with chains and beads while those inflexible ones are made of flat sheets just like bangles.
Materials used
Material used are usually either gold, silver, non-precious metals or leather. Gemstones, glass beads, charms, bells and other embellishments are also used to adorn them.
Today, flexible ankle jewelries are very popular in the west and are worn by older as well as younger women.
Length
Usually the length of an adornment for the ankle is 9 inches long but some whose ankles are thicker will need a longer one. If you are not too sure about the size, just add an extension chain of about an inch in length.
If you love making jewelry, you should also try making one of these for yourself. They are quite easy to make; much simpler than making bracelets.
---
---
So, go make one for yourself! These are not only for children - to keep track of their movement - but are also fashion statement for trendy women. Have a pedicure, add some nail arts and adorn your ankle with a lovely piece of jewelry. Take a walk or go dancing and have fun!
---
Home

›
Anklets
Jewelry Inspirations
Sign up now! I'll send Jewelry Inspirations straight to your inbox. It's FREE!
May 29, 18 10:43 AM

Privacy Policy of Jewelry Making Instructions. Please read before browsing this jewellery making website.

May 30, 15 03:46 AM

Wear rings that are uniquely you. Instructions provided here for making ring jewelry.

May 30, 15 02:07 AM

Make this pair of sweet pink Swarovski crystal earrings in 30 minutes and wear it for a date or just shopping in the mall.
If any piece of DIY jewelry here on this website has inspired you to make something beautiful for yourself or a friend, please share it with someone today.
Use the social buttons below to share with your friends or fans.