MAKING PENDANTS
COULD MAKE YOU RICHER
BY HUNDREDS OF DOLLARS
Making elegant pendants that will make the wearer feels and looks like a princess is quite simple.
With a few gemstones and some silver wires and jump rings, you could easily make a beautiful piece of jewelry to wear with your day-to-day outfit or an elegant and expensive looking piece to grace your evening dress.
And you could even sell these gems for a good profit.
Yes! Sell them for as much as $150 or more a piece, especially if you use semi precious stones and if your designs are unique and innovative.
Just follow the step-by-step instructions on this jewelry making website and you should be on your way to making beautiful jewelry pieces whether for yourself, family members and friends or clients.
Pendants are centerpieces to compliment your attire so do take extra time and care to plan and design them. Use sterling silver or even gold findings and gemstones.
Look for a reasonably big valuable unique gemstone or drop and work from there. Make the gem the focus of your overall design.
Take extra care so that each and every gemstone beads you use for this piece of jewelry fall gracefully around the gem drop. Make sure no part sticks out like a sore thumb and spoils the whole effect.
Choose colored gemstones that will compliment the main gemstone. Add tiny silver or gold charms and a sprinkle of crystal or silver beads to enhance the design.
Let your creativity soar. Be daring and original! Make a jewelry piece that will last for generations to come.
I will be adding more to the list so do check here often for more new ideas and designs for your jewelry making.
Notes: Do not despair if you are not able to get the exact gemstones and jewelry making supplies for your projects. Just replace them with other look alike stones or supplies.
Be creative and innovative and I promise you that you will be able to make lovely pieces that you can proudly say are your own original creations.
How-to Projects for Pendants :
Faceted Rock Crystal Drop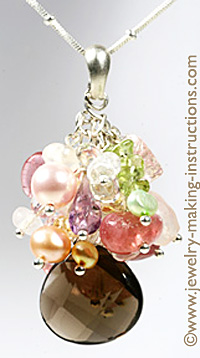 A big pear shaped pendeloque faceted rock crystal surrounded by clusters of mix gemstones, this is the jewelry piece that graces the homepage of this jewelry-making website.
Findings used are made of silver.
This is a very beautiful gemstone pendant that will spark off many queries from people around you. Definitely, a great way to get some conversation going.
Click here to view this beauty.
Bookmark this page and look out for some more lovely pieces that will be added by and by.
---
Home

›
Pendants
Jewelry Inspirations
Sign up now! I'll send Jewelry Inspirations straight to your inbox. It's FREE!
May 29, 18 10:43 AM

Privacy Policy of Jewelry Making Instructions. Please read before browsing this jewellery making website.

May 30, 15 03:46 AM

Wear rings that are uniquely you. Instructions provided here for making ring jewelry.

May 30, 15 02:07 AM

Make this pair of sweet pink Swarovski crystal earrings in 30 minutes and wear it for a date or just shopping in the mall.
If any piece of DIY jewelry here on this website has inspired you to make something beautiful for yourself or a friend, please share it with someone today.
Use the social buttons below to share with your friends or fans.