Make a Simple Charm Bracelet
for a teen girl
Here's a simple charm bracelet for a teen girl you can easily make for your teenage daughter or teenage granddaughter.
The lovely charms on this bracelet will surely charm any fashion conscious teen girl; handbag, hat, shoes, sandal, beach slipper,lock and key and a real cute bicycle.
All the charms that speak of youth and fashion.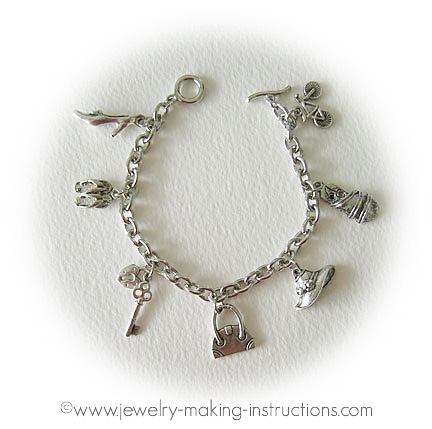 These are inexpensive charms that you can buy from any jewelry craft stores.
They are made of base metal. And while you are looking for these charms, ask for a suitable base metal bracelet.
You can get one with either a clasp or a toggle. A safety chain is not necessary for this bracelet.
Making this charming bracelet for a teen girl
With all your charms, bracelet and jewelry tools gathered and in one place, let's begin to create the bracelet.

Jewelry Making Supplies Needed For Making This Charm Bracelet
bracelet
charms
jump rings
flat-nosed pliers
Jewelry Making Instructions :
Count the links on your chain.
Count the number of charms you are going to hang on the bracelet
Divide the number of links with the number of charms
If you can't get an whole number of links; e.g. 3.5 links , then add an extra charm or reduce one.You can also start on the 2nd or 3rd link from the clasp or toggle and end on 2 or 3 links before the end of the bracelet.
Now arrange the charms anyway you like or seem right to you.
With the pliers, open the jump rings with a lift-up movement.
Place the charm loop inside the jump ring.
Hook the charm to the appropriate link on the chain and close the jump ring with a down movement.
Continue adding the rest of the charms.
And there's your beautiful bracelet for a teenager.
---
Home

›
Charm Bracelets

›
Charm Bracelet for a Teen Girl
Jewelry Inspirations
Sign up now! I'll send Jewelry Inspirations straight to your inbox. It's FREE!
May 29, 18 10:43 AM

Privacy Policy of Jewelry Making Instructions. Please read before browsing this jewellery making website.

May 30, 15 03:46 AM

Wear rings that are uniquely you. Instructions provided here for making ring jewelry.

May 30, 15 02:07 AM

Make this pair of sweet pink Swarovski crystal earrings in 30 minutes and wear it for a date or just shopping in the mall.
If any piece of DIY jewelry here on this website has inspired you to make something beautiful for yourself or a friend, please share it with someone today.
Use the social buttons below to share with your friends or fans.