Rock Crystal Pendant


Beautiful Pear Shaped Pendeloque Faceted Crystal



A rock crystal pendant you will surely love. This pear shaped pendeloque faceted rock crystal is truly beautiful to behold  and you will definitely be proud to show it off wherever you go.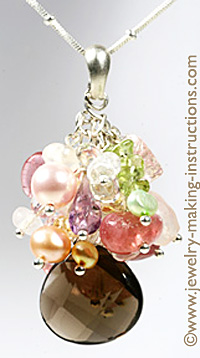 The mix of amethyst, tourmaline, garnet, peridot, citrine, beads and nuggets with Swaroski Crystal pearls give this pendant a myraid of brilliant colors that will look so lovely whether in moonlight or daytime.
Tips: If you don't have these beautiful gemstones, replace them with other clear colored stones and a big pear shaped drop.
Jewelry Making Supplies Needed:
1 no. silver bail
1 no. rock crystal in pear-shaped pendeloque faceted
Mix of amethyst, tourmaline, garnet, peridot, citrine

Swaroski Crystal pearls

Beads and nuggets.

silver chain
silver wire
silver jump rings
silver headpins
pliers
cutters
Jewelry Making Instructions:
Cut the chain to half an inch long.
Insert silver wire into the rock crystal and make a loop (Refer to drawing above)
Attach chain to silver bail with a jump ring.
Attach rock crystal to the other end of chain with a jump ring.
Put 2 to 3 stones, silver nuggets, or pearls in each head pin and make a loop. (Refer Basic Techniques.)
Attach two of each to a jump ring.
Finally, attach these to the chain above the rock crystal.
Arrange them so that they fall nicely around the top of the rock crystal.
Attach to a ribbon, leather thong or silver chain. Wear it with a low cut neckline dress and I'm sure everyone will be asking you about your beautiful penchant.
Jewelry Inspirations
Sign up now! I'll send Jewelry Inspirations straight to your inbox. It's FREE!
May 29, 18 10:43 AM

Privacy Policy of Jewelry Making Instructions. Please read before browsing this jewellery making website.

May 30, 15 03:46 AM

Wear rings that are uniquely you. Instructions provided here for making ring jewelry.

May 30, 15 02:07 AM

Make this pair of sweet pink Swarovski crystal earrings in 30 minutes and wear it for a date or just shopping in the mall.
If any piece of DIY jewelry here on this website has inspired you to make something beautiful for yourself or a friend, please share it with someone today.
Use the social buttons below to share with your friends or fans.