How To Make Your Own Beaded Links


basic essentials for making




bracelets, necklaces and earrings
Beaded links are very necessary for making your own bracelets, necklaces and earrings. 
Learn how to make these jewelry making links and you will be able to make quite a few jewelry pieces to add to your jewelry box.
Tips:
To practice, you should just purchase inexpensive metal eye pins.
Jewelry Making Supplies:
eye pin
bead
round-nosed pliers
wire cutter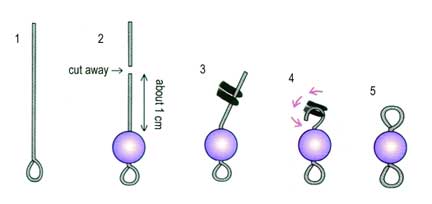 Jewelry Making Step by Step Instructions: How To Make Beaded Links
Hold the eye pin in your hand.
Put your bead into the eye pin. With one hand gripping the bead, use the other hand to cut off excess pin with wire cutter leaving 1 cm from bead.
Using your round-nosed plier, grip the tip of eye pin and bend pin towards yourself.
Turn and bend pin into a loop.
Final result should look like no. 5 in picture above.
Why You Need These Links
Since these are links made from beads, You can use these to build a bracelet, a necklace or a pair of dangling earrings.
Instead of using a chain and adding beads, you make these links and join them together to the desired length and add a clasp to fasten.
There are two ways to join links to one another.
Open one side of the loop by lifting up and hook into the loop of the other bead. Close by pressing down.
Add a tiny ring in-between the two links.
---
Home

›
How To Make...

›
Bead Links
back to How To Make...
back to Jewelry Making Instructions Homepage
Jewelry Inspirations
Sign up now! I'll send Jewelry Inspirations straight to your inbox. It's FREE!
May 29, 18 10:43 AM

Privacy Policy of Jewelry Making Instructions. Please read before browsing this jewellery making website.

May 30, 15 03:46 AM

Wear rings that are uniquely you. Instructions provided here for making ring jewelry.

May 30, 15 02:07 AM

Make this pair of sweet pink Swarovski crystal earrings in 30 minutes and wear it for a date or just shopping in the mall.
If any piece of DIY jewelry here on this website has inspired you to make something beautiful for yourself or a friend, please share it with someone today.
Use the social buttons below to share with your friends or fans.
top of How to Make Beaded Links